As part of my desire this year to get serious about my health, and just to live a happier life in general, I have been reading a lot of wellness books. I have a few books that I deem as "Holy Grail" books that have just been a wealth of knowledge and I am so glad that I found them. I do plan on discussing those at some point, I'm just working on reading through some research and finishing one of the books before I write about them. (I guess the urge to do research never really goes away if it was something you loved. It's one of things I enjoyed most about college.)
In looking into certain topics I've been interested in I have found several authors and books that I have mentally filed away to read "at some point." One of those authors is Louise Hay. She was one of the pioneers of the self-help movement and her first book came out in 1976. If you've ever ventured into self-help or wellness you've probably heard her name or someone that learned something from her. She also heads Hay House which publishes some of the leading authors in self-help, alternative medicine, and other categories.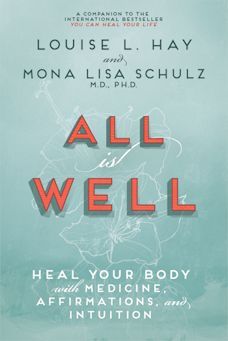 I was intrigued by her newest book, written with Mona Lisa Schulz titled, All is Well. It takes the idea of utilizing your body's intuition, affirmation, medicine, and understanding the emotional centers of the body to heal yourself. The book has each emotional center split up by chapters and along with details about what areas of the body are affected by each emotional center it utilizes case studies of people showing how everything is tied together with your body.
The nice thing about this book is that it isn't designed to be read cover to cover. It starts with a "Self-Assessment Quiz" to see what areas you should focus on. Using the answers from the quiz you can then turn to the corresponding areas and just read that section.
This book is a good introduction if you are coming from the mindset of modern medicine is the only way to cure what ails me rather than someone who already uses a few alternative medicine practices in their life. For me, I regularly use herbal medicine for colds and such and have use an acupuncturist in the past, and found this book lacking in some areas. But it is truly set up to give a complete newcomer a view into a new way to achieve whole body health.
If you are someone who has never thought of using anything other than the advice of your doctor I'd recommend this book just to get a new perspective on how to heal your mind and body. But if you are, like me, someone who has already spent some time dabbling in alternative health and know a fair bit this book might lack some of the in depth information you would be looking for.
Overall, I give this book 4 out of 5 stars because it does do a wonderful job of setting the stage to use affirmations to change some of the negative mindsets you have that contribute to certain health problems.
How do you guys feel about things such as affirmations in general? Do you enjoy reading alternative health books or do they not interest you in the slightest? Let me know if you think you have a book I just have to read!
FTC Disclosure: I received this book for free from Hay House Publishing for this review. The opinion in this review is unbiased and reflects my honest judgment of the product.